Description

J-TL
From J-series
A new addition to Aria Pro II "J" Family.
Inheriting the classic J series outline of offset-single-cut design J-TL
also pay a great homage to the rock 'n roll tradition.
Comfort contours front and back and absolutely impeccable body-balance had been achieved to fulfill modern player's needs.
Modern "C" shape maple neck with 24-Frets is another unique point which Aria Pro II J-TL offers.
Versatility, Affordability, J-TL would be an ideal choice for any types of guitar players. Available in 3 different colour variations.
J SERIES BODY
The single cutaway off-set body shape is one of the most unique feature which Aria Pro II "J" series offer.
ROUND EDGED NECK JOINT
The round edged neck joint delivers you an easy access to the higher fret positions while countered body back well fits with your body for comfortable playability.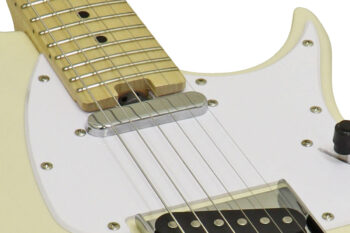 SPOKE WHEEL TRUSS ROD
Easy neck adjustment. There's no need to fiddle around with truss rod covers, wrenches or – heaven forbid – remove the neck to make seasonal adjustments.