Description

J-B51
From J Series
Aria Pro II J-B51 is a solid body electric bass which in homage to the genesis of modern electric basses in 1950s.
The combination of its small body and medium scale length with primitively simple tone control generate a great versatility to fit with playing many genre of music. Unique single cutaway body design with contoured back is just comfortable for playing. Available in 3 colour variations.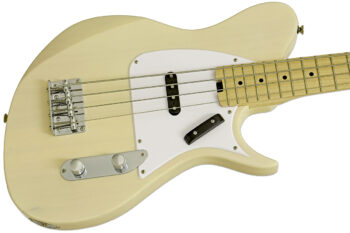 J SERIES BODY
The single cutaway off-set body shape is one of the most unique feature which Aria Pro II "J" series offer.
FINGER REST
As well as projecting a good old vintage vibe, actually finger rest is an ideal tool for thumb picking players.
SPOKE WHEEL TRUSS ROD
Easy neck adjustment. There's no need to fiddle around with truss rod covers, wrenches or – heaven forbid – remove the neck to make seasonal adjustments.