Description

PE-F80
Genuine "PE" Pedigree
The history of Aria Pro II was started in 1975.
The first PE model of PE-1500 was released in 1976 and since then
various PE model guitars were continously produced and been played by earnest guitar players all over the world including Neal Schon of Journey, Gerry Cott of Boomtown Rats, Andy Summers of The Police.
PE-F80 is a budget friendly version of "PE-R80″ which was originally launched in 1980. The PE-F80 inherits the genuine elegance of what "PE-R80" offers such as strong curved body top with recessed control knobs and switch, cloud shaped fingerboard inlays, heel-less cutaway neck joint while contoured flat body back is reducing the entire body weight. 
CURVED TOP & RECESSED KNOBS
The most distinguish point to characterise PE would be the body silhouette. Single cutaway body with the stronger curved top which evokes Violins, and all control knobs and switch were placed in the recessed position. This complete the stunning appearance to fascinate the audiences.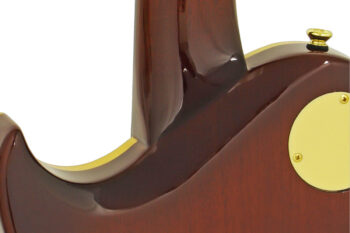 ORIGINAL HEEL-LESS CUTAWAY DESIGN
The tradtion in the Aria Pro II "PE" history. This original Heel-Less cutaway design had been employed ever since the first PE model of PE-1500 was released in 1976.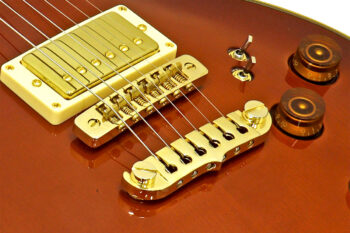 SPT BRIDGE & QH TAILPIECE
Aria original SPT Bridge and QH Tailpiece had been widely used with numerous Aria Pro II guitars.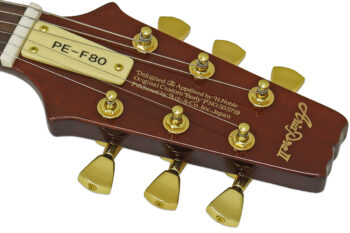 TRADITIONAL PE-HEADSTOCK
This classic PE's headstock design had been kept over the decades.