Description

313-BB
Aria Pro II Hot Rod Collection.
The Detroit bass was named after the Motor City for a reason. From smooth Motown soul to loud gritty Detroit rock & roll, this bass can do it all. The textured feel of the open-pore satin finish adds character while maximizing resonance. The roasted maple neck & rosewood fingerboard emanates a tone that rumbles like a 1000 horsepower of Detroit Muscle.
The original idea of the 313-BB was inspired by "Bourbon Barrel". A dark brown ash body which is topped with anodized aluminum pickguard constitute stunning beauty and generate a "cask strength" tone.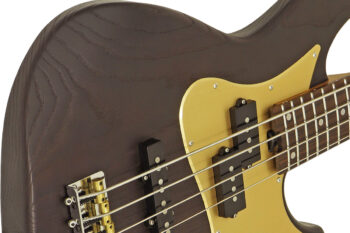 BOURBON BARREL INSPIRED
Inspired by bourbon barrel. The combination of dark brown body with anodized aluminum pickguard brings about devastating classy old taste.
SPOKE WHEEL TRUSS ROD
Easy neck adjustment. There's no need to fiddle around with truss rod covers, wrenches or – heaven forbid – remove the neck to make seasonal adjustments.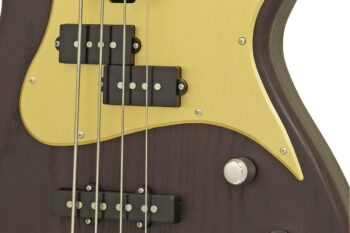 P/J PICKUP CONFIGURATION
P/J pickup configulation is a rounder which enables you to have a tonal flexibility and versatility.