Description
DM-206-L
Left Hand
Aria DM series was originally launched in 60s.
Today new DM was born as DM-206 which fully inherits the heritage and tradition of original DM offered. However the spec of DM-206 doesn't correspond to any of vintage DM guitars but with updated specifications to suit modern guitarists' needs. The combination of 2 Mini-Humbucker pickups with Wrap-around bridge is just ideal for you to rock around.
SPOKE WHEEL TRUSS ROD
Easy neck adjustment. There's no need to fiddle around with truss rod covers, wrenches or – heaven forbid – remove the neck to make seasonal adjustments.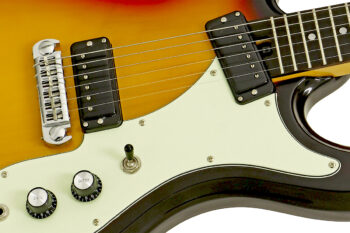 MINI-HUMBUCKERS AND WRAP-AROUND BRIDGE
A combo of two mini-humbucker pickups and
a wrap-around one-piece bridge with adjustable saddles.
This combination generates bright and snappy tone to rock you away.
RETRO STYLE LOGO
Retro style Aria Pro II logo is being featured with both DM-206 and DMB-206 (4 strings bass).