Description

J-1
From J Series
The J-1's fresh design is ideal for the entry level player who's looking for something a little different. This curvy single cut guitar has a powerful sound. You're now free to move about the fretboard.
J SERIES BODY
The single cutaway off-set body shape is one of the most unique feature which Aria Pro II "J" series offer.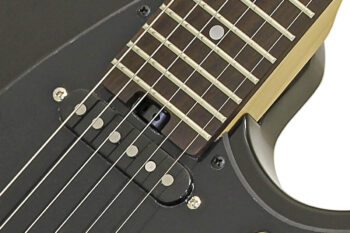 SPOKE WHEEL TRUSS ROD
Easy neck adjustment. There's no need to fiddle around with truss rod covers, wrenches or – heaven forbid – remove the neck to make seasonal adjustments.
VINTAGE STYLE TREMOLO UNIT
J-1 features vintage style tremolo unit (VFT-1) and rear positioned humbucker pickup.