Description

SB-1000
Proudly Made in Japan
The Aria SB-1000 is a faithful and 'high-end' revisit to a time when bass construction was enjoying a surge of creativity and flair. Aria Pro II SB series had been esteemed by legendary bassists through the ages including Cliff Burton, John Taylor, Rudy Sarzo, Jack Bruce, Marcus Miller.
NECK THROUGH CONSTRUCTION
Smoothly sculpted neck-through body offers you superb sustain as well as unbeatable access to the upper frets.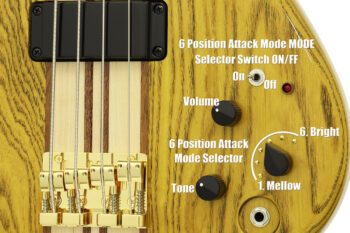 B B CIRCUIT
The "B.B. Circuit" was the one of the distinctive function brought SB basses to a stardom. Provide tons of sonic flexibility, literally at the turn of a single knob. Each of the six presets change the frequency of a low pass filter, which changes the character of the bass tone.