Description

MAC-STD
The MAC-STD's double cutaway design features a sleek carved top, recessed knobs, 24 frets, and a sculpted neck joint. Now available in 4 different metallic flake finishes with a matching headstock.
CARVED TOP & RECESSED KNOBS
Sleeky carved top with double cutaway desgin. The control knobs are  placed in the recessed position. This complete the stunning appearance to fascinate the audiences.
.
SPOKE WHEEL TRUSS ROD
Easy neck adjustment. There's no need to fiddle around with truss rod covers, wrenches or – heaven forbid – remove the neck to make seasonal adjustments.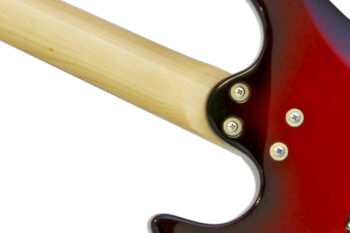 HEEL-LESS CUTAWAY DESIGN
The tradtion in the Aria Pro II history. This original Heel-Less cutaway design had been employed ever since Aria Pro II brand was launched in 1975.